LAHORE, Pakistan, Jan. 5, 2017 /PRNewswire/ — Mentor Graphics Corp. (NASDAQ: MENT) today announced that Mentor Graphics Pakistan Development (Pvt.) Ltd. has been named among the country's top ten software exporters and has received an IT Export Award from the Pakistan Software Export Board.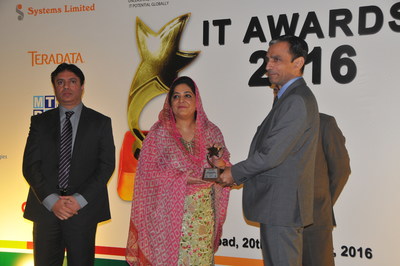 Photo – http://mma.prnewswire.com/media/454088/Mentor_Graphics_Pakistan_Award.jpg
The award was presented on December 20 by Ms. Anusha Rahman Ahmad Khan, Minister of State for Information Technology & Telecom. The awards ceremony at the Marriott Hotel, Islamabad, was attended by executives from the IT and telecommunications industries, numerous public officials, and members of the diplomatic community.
"Mentor Graphics is proud to be recognized as one of the top ten software-development companies in Pakistan, acknowledged for bringing high direct financial investment into the country," said Syed Hassan Raza Gilani, managing director, Mentor Graphics Pakistan.  "We are pleased that our commitment to innovative software solutions is making a significant contribution to this vibrant sector of Pakistan's economy."
About Mentor Graphics
Mentor Graphics Corporation is a world leader in electronic hardware and software design solutions, providing products, consulting services and award-winning support for the world's most successful electronic, semiconductor and systems companies.
Established in 1981, the company reported revenues in the last fiscal year of approximately $1.18 billion. Corporate headquarters are located at 8005 S.W. Boeckman Road, Wilsonville, Oregon 97070-7777. World Wide Web site: http://www.mentor.com.
(Mentor Graphics is a registered trademark of Mentor Graphics Corporation. All other company or product names are the registered trademarks or trademarks of their respective owners.)
For more information, please contact:
Syed Hassan Raza Gilani
+92 42 36099100
hassan_raza-gilani@mentor.com
Logo – http://mma.prnewswire.com/media/68673/mentor_graphics_corporation_logo.jpg