– New portfolio provides shorter lead times for more rapid biomanufacturing
– Optimizes balance of delivery speed and customization
DARMSTADT, Germany, March 21, 2017 /PRNewswire/ — Merck, a leading science and technology company, today launched an industry first—the Mobius® MyWay portfolio, a program that allows more flexibility, better supply predictability and shorter lead times for more efficient and safer drug manufacture.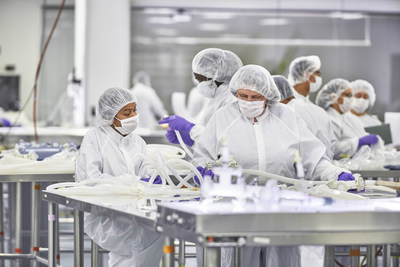 Photo – https://mma.prnewswire.com/media/479389/MobiusMyWay.jpg
"We have the industry's only comprehensive single-use solution, giving customers three different ways to create customizable assemblies," said Andrew Bulpin, Head of Process Solutions Strategic Marketing & Innovation at the life science business sector of Merck. "This is critical to customers from contract manufacturing organizations to big pharma, whose biggest challenge is getting custom assemblies with fast, reliable lead times for quicker turnarounds and more rapid biomanufacturing."
For commercial manufacturers, Merck's Mobius® MyWay portfolio helps minimize schedule disruptions and delays. Pilot plants benefit from faster assembly design and delivery in order to adjust to new and evolving needs in real-time. Contract manufacturing organizations benefit from more reliable lead times allowing for better planning, which helps ensure on-time product delivery.
Merck's portfolio offers a choice of off-the-shelf and configured-to-order assemblies, as well as fully customizable configurations. Assemblies available as part of the Mobius® MyWay portfolio are used for safe and effective fluid management across upstream and downstream processes, from routine buffer and media prep, to critical premium aseptic process and final drug manufacturing.
Assemblies are segmented into three categories, each offering a different level of configuration flexibility:
Mobius® Stock offers on-demand solutions ready to ship in 24 hours.
Mobius® Select offers an optimal balance of speed and configurability of custom assemblies from an optimized component library with an agile 6-week lead time.
Mobius® Choice offers highly customized solutions from our expansive component library, shipped in standard lead times.
Among the assemblies included in the Mobius® MyWay portfolio are Mobius® MIX systems and bags up to 1,000 liters; holding and transport vessels up to 3,500 liters; Lynx® CDR sterile connectors and single-use final formulation, filtration and final fill assemblies.
All Merck news release are distributed by email at the same time they become available on the Merck Website. Please go to www.merckgroup.com/subscribe to register online, change your selection or discontinue this service.
About Merck
Merck is a leading science and technology company in healthcare, life science and performance materials. Around 50,000 employees work to further develop technologies that improve and enhance life – from biopharmaceutical therapies to treat cancer or multiple sclerosis, cutting-edge systems for scientific research and production, to liquid crystals for smartphones and LCD televisions. In 2016, Merck generated sales of € 15.0 billion in 66 countries.
Founded in 1668, Merck is the world's oldest pharmaceutical and chemical company. The founding family remains the majority owner of the publicly listed corporate group. Merck holds the global rights to the Merck name and brand. The only exceptions are the United States and Canada, where the company operates as EMD Serono, MilliporeSigma and EMD Performance Materials.